Club Awards Three Scholarships to High School Seniors
Three local high school seniors were recently awarded scholarships to attend local schools for higher education. Kayla Sasser from Buckeye High School received a Rotary Club Scholars Award to attend Louisiana College. Shelby Bernard from Bolton High School received the Ted Pate Scholarship to attend LSUA. And, for the first time, a second Rotary Club Scholars Award was awarded to a student in our area planning to attend CLTCC. The recipient of this Award is Cody Jordan (pictured below) from Tioga High School. Each student receives $2,000 from our Club to begin their college education. The presentations were made even more special because Louisiana Governor John Bel Edwards was our speaker that day and helped present the scholarship awards. Many thanks to Crystal Burch, Aaron Mangum, Scott Brame and the rest of the Scholarship Committee for their dedication and hard work.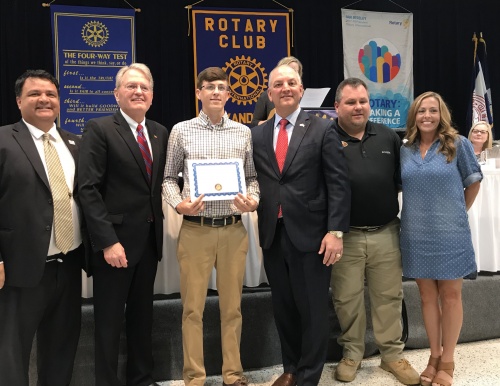 Service Above Self Awarded to Charles Charrier

On May 22nd, our Club awarded its annual Service Above Self Award to Club member, Charles Charrier. This award is given to someone in our community who goes above and beyond their normal job to serve others in the community. Charles has a law practice in town, but has also served the blind in our community and those who are struggling with addictions. He is very involved in the local Historical Society and most of the members of the Society were there today to support him. Thanks to Mike Chatelain (chair), Elissa Constance and the rest of the committee. And congratulations, Charles on this well deserved honor!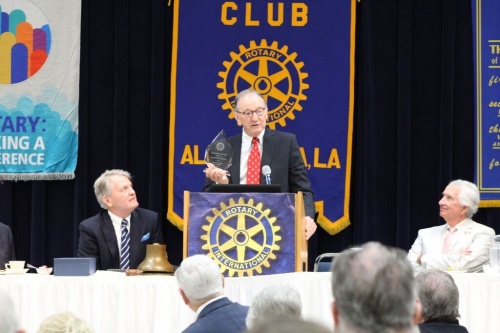 New Club Directory Now Available

The new Club Directories are now available. For the next several meetings, we will have them out for you to take your copy. These are printed for the convenience of our members and are not to be shared or used for solicitation. Of course, the minute you print something, the next day, it is often out of date. You can always access our Club Directory online at the DACdb database. You can also change your own personal information by logging in to the database. You should receive an email with instructions for logging in to the database. If you have any questions, please contact Judy at judy@judymuisic.com.
For all of the latest news on our Club, be sure to check out our Club Facebook Page at:
https://www.facebook.com/rotaryalexandria/