District Governor, Paula Gates to speak at August 22nd Meeting

Paula Gates is the newly elected Governor of our Rotary District. She will be addressing our Club Tuesday, August 22nd. We hope to see many of our members there.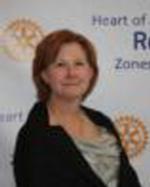 Club Facebook Page

For all of the latest news on our Club, be sure to check out our Club Facebook Page at:
https://www.facebook.com/rotaryalexandria/
This is where you can find the latest information about what is happening in our Club and information about upcoming meetings and programs. Many thanks to Jennifer Nichols for daily maintaining and updating this page for our members. If you are on Facebook, please join our Rotary Club page and don't forget to comment and like. Spread the word about our great Club through social media.


Club Secretary/Treasurer, Ed Caplan celebrates his 62nd Rotary Anniversary

Ed Caplan joined our Rotary Club on August 16, 1955. He has served as President of the Club and currently serves as Secretary/Treasurer, Rotary Foundation Chair and Bulletin Editor. Thanks for your many dedicated years of Rotary service in our community!