New Club Officers and Board Sworn In
On June 26th, our Club swore in their new Officers and Board for the 2018-2019 Rotary year -- our 101st year! Current President, Mike Johnson was congratulated for a job well done. Mike brought lots of enthusiasm to the job as President of our Club and a celebratory atmosphere to our weekly meetings. During his presidency, our membership soared.

Our new Club Officers are:
President: John Leboeuf
President Elect: Haywood Joiner
President- Nominee: Dustin Matthews
Secretary/Treasurer: Ed Caplan
Sergeant-at-Arms: Eloise Andries
Registrar: Bob Ginsburgh

New Board Members for the 2018-2019 Rotary Year are:
Ryan Brocato, Thomas David III, Jonathan Dean, Brad Kirzner, Maggie Martin, Randy Ponthie, Deborah Randolph, Larry Turner and Katie Vanderlick.

The Officers and Board were officially sworn in by Club member and Judge, Richard Starling. Congratulations to all!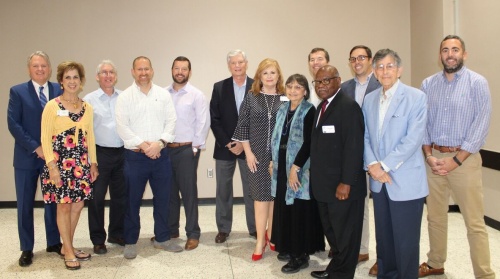 Volunteer to be on a Rotary Committee

We have just added the Rotary Volunteer Form under the Documents tab of this website. Please fill out this form and return it to us at the sign in table at our weekly meeting or email to: ejclake@suddenlink.net. We hope you will want to become more involved in Rotary and make a bigger difference in your community and the world.
New Club Directory Now Available

The new Club Directories are now available. For the next several meetings, we will have them out for you to take your copy. These are printed for the convenience of our members and are not to be shared or used for solicitation. Of course, the minute you print something, the next day, it is often out of date. You can always access our Club Directory online at the DACdb database. You can also change your own personal information by logging in to the database. You should receive an email with instructions for logging in to the database. If you have any questions, please contact Judy at judy@judymuisic.com.
For all of the latest news on our Club, be sure to check out our Club Facebook Page at:
https://www.facebook.com/rotaryalexandria/