If It's Tuesday, It's Rotary...
We all need to make attending Rotary each Tuesday a priority and there is so much to gain if we do. Fellowship and food start at 11:45 am followed by great programs. Where else can you meet with such a large gathering of community leaders on a weekly basis, enjoy good food and learn about what's happening in our Club and our community? We are working to make every Tuesday informative, timely and fun. Your presence is important. You get the most from Rotary and Rotary does its best when we work as a team. So, let's make this one of our New Years' Resolutions - "If It's Tuesday, It's Rotary."
Zeb Winstead Receives PH +7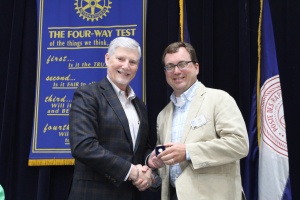 Current Club President, John LeBoeuf presents Past Club President and District Governor Nominee, Zeb Winstead his Paul Harris +7 pin.
Alexandria Rotary Club Career Day
On April 30th, our Club hosted its annual Career Day with gust speaker, Heather Poole. Almost 50 students, parents and mentors attended the luncheon. Crystal Burch and Aaron Mangum and their committee selected outstanding area students from a range of local schools to participate in the mentoring program where they shadow a local professional for the day and learn about a profession they may be considering. In addition to our Career Day students, the meeting was also attended by Interact students from various high schools in the Central Louisiana area. Thanks to Marilyn Carlin for her hard work in keeping our Interact program active and growing.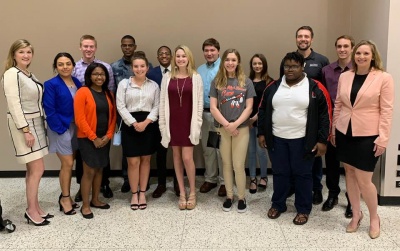 Career Day Students with Heather Poole, Aaron Mangum and Crystal Burch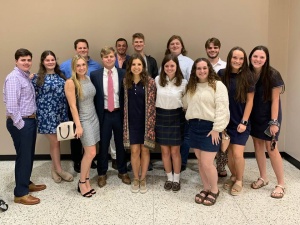 Interact Students