Club Awards $25,000 in Local Grants
Several Rotary Grants were recently awarded to non-profit organizations in our area. The checks were presented at our April 10th meeting. Those non-profits receiving grants are:
Fostering Community - Backpack/School Uniform and Supplies Campaign - $3,000
Safe Sleep Campaign - $2,000
Cenla Pregnancy Center Parenting Education Program - $5,000
Community HealthWorx Direct Care for Veterans Dental needs - $3,000
United Way The Leader in Me Program - $5,000
Boudreaux's Animal Rescue Krewe (BARK) - $2,000
Re-Entry Solutions Computers to help local individuals gain employment - $4,000
Historical Association of Central LA - $1,000
Thanks to Thomas David III and Elissa Constance (co-chairs) and all the committee members for their hard work making these decisions. A total of $25,000 was awarded.
(Below: The Cenla Pregnancy Center receives a $5,000 grant from President, Mike Johnson)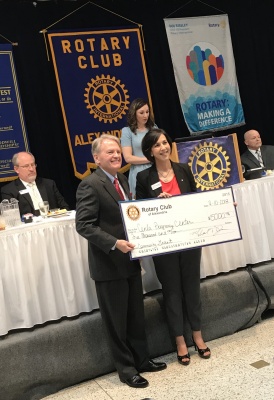 Club Member, Wally Fall Honored

On April 7th, Coach Wally Fall was inducted into the Louisiana Athletic Association Hall of Fame in Baton Rouge. Wally recently retired as Principal of Brame Middle School and is also a well-known swim coach. Congratulations, Coach Fall!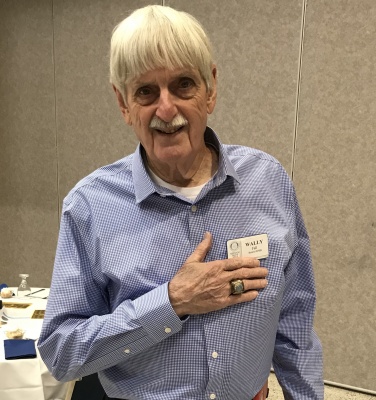 Club Facebook Page

For all of the latest news on our Club, be sure to check out our Club Facebook Page at:
https://www.facebook.com/rotaryalexandria/
This is where you can find the latest information about what is happening in our Club and information about upcoming meetings and programs. Many thanks to Jennifer Nichols for daily maintaining and updating this page for our members. If you are on Facebook, please join our Rotary Club page and don't forget to comment and like. Spread the word about our great Club through social media.