Special Centennial Program Featuring President of the WWII Museum

On July 18, the new President of the WWII Museum in New Orleans, Stephen Watson, spoke to our Club. A large crowd attended -- we had over 55 guests! James Linn, the curator of exhibits at the Museum also spoke and mentioned that in November, 2019, an exhibit about Louisiana's contributions to WWII will open at our Alexandria Museum of Art. Roane Hathorn, who will be 91 on July 22nd, was honored for his service in WWII.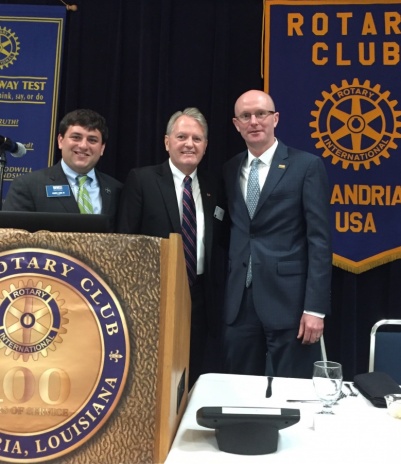 Pictured Above - James Linn, Club President, Mike Johnson and Stephen Watson, President of the WWII Museum. Pictured below - Stephen Watson with WWII vet, Roane Hathorn
Club Facebook Page

For all of the latest news on our Club, be sure to check out our Club Facebook Page at:
https://www.facebook.com/rotaryalexandria/
This is where you can find the latest information about what is happening in our Club and information about upcoming meetings and programs. Many thanks to Jennifer Nichols for daily maintaining and updating this page for our members. If you are on Facebook, please join our Rotary Club page and don't forget to comment and like. Spread the word about our great Club through social media.


Dan Borne, the Voice of LSU speaks at Rotary