Centennial Celebration
If you were not present to celebrate our Club's 100th Anniversary on Wednesday, November 16th, you missed an historic and spectacular event. From the Opening Processional, the decorations, the entertainment, the gourmet food, R.I. President, John Germ's inspiring message -- everything went like clockwork and made for a truly memorable and unforgettable experience.

Special thanks to Mike Davis (Chair, Opening Event), Tom David (Chair, Past President's Council), Ed Caplan, Zeb Winstead and all who participated and attended making this event so special.

Here are two quotes that best sum up this incredible day:
R.I. President, John Germ - "The entire event was outstanding. It was a great opportunity to see some old friends and make new ones. I was especially glad to see so many Rotaractors and visitors from other Clubs. Thanks again for everything.
Mike Tudor (Past President and 4th generation Rotarian family member) - "Yesterday's event was without question one of the classiest affairs I have EVER attended since coming back to live and practice law in 1971. Few events have been so well thought out and equally well implemented. Thank you for an outstanding job which made everyone in the room proud to be a Rotarian and a citizen of our twin cities."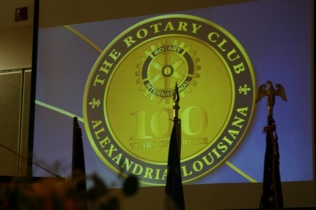 Doll & Toy Fund Distribution Saturday, Dec., 17
This year's Doll & Toy distribution will be on Saturday, December 17 at Alexandria City Hall. The Doll & Toy fund was created by The Town Talk in 1929 as a way to bring Christmas cheer to under-privileged children in our community. On that first Christmas eve in 1929, $350 had been raised. Today, we raise approximately $25,000 and more than 1,000 toys are distributed. While the Town Talk raises the money, members of the Alexandria Rotary Club help administer the and deliver the toys. The Rotary Club has partnered with The Town Talk on this project since 1957.
This year, the Doll & Toy Fund Committee is planning to send invitations to approximately 700 families (1,800 children) to come select a toy as a gift from the community. We receive the family information from the Salvation Army, Volunteers of America, and the Christmas Cheer group made up of people from First United Methodist Church.
The Town Talk employees and many of our Rotary members and families will serve as volunteers for the event. Bolton High School's ROTC, as well as, several area Rotaract Clubs will come to volunteer, also. Warren Morris is the Chairperson of this event for our Club. If you would like to volunteer to help give out toys, please contact Warren.